It was quite exciting for her that day at the mall, when she found that super cute outfit.  She modeled it in the mirror in the dressing room, and it was just perfect.  It showed off her cute little belly button and the top was just sheer enough to highlight the bra that she also just bought.  She loved the feel of the super thin fabric of the long skirt.  With the recent warming trend, she knew that this was the outfit that she was going to wear to school on Monday. She had always been a bit of a nerd, and was sometimes called "brainiac", but in her senior year of high school, the boys were beginning to notice her.  This outfit was very cute, it was not at all slutty, but she knew that she would be turning a few heads and she very much looked forward to it.
Walking down the hall before her first class of the day it was clear that her little outfit was having the desired effect.  The sheerness of the top was attracting some attention to her petite breasts, a part of her that always seemed to be overlooked, and she caught more than one boy turning his head to get a better look at her lovely bottom in the form fitting skirt.  Things went exactly how she had planned for her first couple classes that day, even nice comments from girls that she did not think knew she even existed. All of that changed as she walked into her third period class and was clearly getting a glare from her female history teacher.  She got out her book and spiral notebook and prepared for class as the bell rang.  The teacher did not jump right into the class lecture and instead was busy with something at her desk.  A couple of minutes later she was called to the front of the class, having no idea what this was about.
The teacher handed her a form of some sort, something she had never seen before, and told her to take it up to the vice principal's office.  This was met with a few "ohhh's" from the class, which made her blush, and she walked out of the classroom with the form in her hand.  As she walked towards the office she read the heading, "disciplinary referral" and her heart began to race.  She had never been in trouble at school a single day in her life, so this was all very new to her.  She was the perfect student, with perfect grades, and never even really met the vice principal of the school.  His role at the school seemed to be focused solely on discipline, so there never really would have been a reason for their paths to cross.  She read the teacher's comments and it was very clear "Student came to class clearly in violation of dress code.  Her bra is visible and her midriff is showing".  None of this had really occurred to her when she bought the outfit.  She had always dressed fairly conservative, and had never really even looked at the student dress code in the student code of conduct.
As she opened the door to the main area of the office, she was a little nervous.  She was quite hopeful, as she had never been "written up" before that all of this would lead to her getting a warning and maybe having to change her clothes.  She was not exactly sure what to do and walked up to the secretary with the referral in her hand.  The secretary grabbed the referral and motioned for her to have a seat in a row of empty chairs against the wall.  As she sat, the secretary walked into the VP's office and delivered her pink slip.  She spent several minutes waiting, and just watched the business of the school office.  The phone seemed to ring constantly and there was an endless stream of students coming in and out for various reasons.  Unfortunately for her, none of them seemed to be carrying pink slips and she was all alone in the row of chairs.  Eventually, the VP peeked his head out the door and politely invited her in.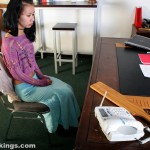 She entered his office, which she found to be quite large and nice.  There was a typical desk that you would expect any administrator to be sitting behind, but there was also a large sitting area with a formal couch and a chair.  He asked her to sit in the chair directly in front of his desk as he began looking at the laptop on his desk.  He spent a couple of minutes reviewing her entire school record and it was clear that she was an exemplary student.  While he was reviewing her record, she was startled, while as he was looking around the office, she noticed a large wooden paddle on his desk.  Her heart began racing and she knew her cheeks had to be bright red.  She was not exactly sure why the sight of the paddle triggered such a full body reaction, but it did.  She was vaguely aware that she attended a school, and district, in which corporal punishment was allowed, but she had never had any direct connection with it.  As far as she knew, an occasional trouble maker boy, who lived in the school office, might get swats to his butt, but clearly this was not for her.  Regardless, even if this did not apply to her, just seeing this large board, and knowing it was used for spanking, really got her heart racing.
When he was done looking at what he needed to, he asked her politely to stand up.  She was a little confused, but quickly did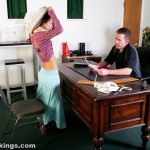 exactly what she was told.  He asked her to remove her scarf, which once again confused her, but she quickly did as she was told.  He then spent a moment looking at her outfit.  He asked her if she saw any problem with what she was wearing, and she found herself at a loss for words.  It was clear what he was getting at, but she did not really want to admit that she had done anything wrong.  He asked her again, and she quietly replied "not really".  He started with pointing out how much of her midsection was showing as a result of her little cropped top.  He stated that midriff was not allowed, and that had she looked at all when walking down the halls this morning she would have noticed that she was the only one with a visible belly button.  He then pointed out to her that her bra was clearly visible.  He stated that the original rule about "no undergarments were to be visible" was written as a result of "the idiot boys showing their underwear", but that it clearly was applicable in this situation.  He informed her that her walking around with her bra visible and her breasts barely covered, was not only inappropriate, but "a distraction to the learning process".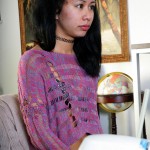 He told her to sit back down as he reached into a file drawer and pulled out a piece of paper.  He spent a minute filing out the form, which she was unable to really see, so she just sat there feeling like a naughty child.  It was not like she vandalized the school, or was some sort of bully, yet she was being chastised like some sort of trouble maker.  After he filled out the form, he pulled out a copy of the student code of conduct.  He asked her if she was issued one on the first day of school and she told him that she had.  He then turned to the pages of the book and read aloud the two sections that dealt specifically with her violations.  He read to her, word for word, the school policies.  He told her that this has been a growing problem and that is was a situation that had previously gotten out of control as a result of teachers and administrators not doing anything about it. He said this point was made even clearer today, as she had managed to go to two of her classes without a teacher choosing to do anything about it.  He made it very clear that it was his job to do something about it.
She felt like he was beginning to make a big deal out of a very small problem, from a student on the honor roll no less.  He put down the student handbook and rotated and slid the form he just filled out towards her.  He asked her to look it over so there was no confusion as to what was about to happen.  Her heart sank as her eyes connected with the heading "ADMINISTRATION OF CORPORAL PUNISHMENT". Her heart just about exploded, as she read farther down the page:
Student code of conduct, dress code item III- VIOLATION.  Very visible midriff.
Action Taken- Corporal Punishment- 5 swats
Student code of conduct, dress code item Vi- VIOLATION.  Visible undergarments, bra.
Action Taken- Corporal Punishment- 5 swats
Corporal punishment exemption form: None on file.
Her hands began to tremble as the full reality of the situation began to sink in.  He politely told her that she needed her to sign the bottom of the page, on the line that stated that she had been informed of her infractions and the resulting punishment.  He started to hand her a pen, and she just shook her head and said that she did not understand.  Without even the slightest bit of anger or annoyance in his voice, he explained that she not only broke two school rules, but that there was nothing ambiguous about it.  These rules were not only clearly stated in the handbook, but the potential for corporal punishment to be used as a result of this violation was also stated.  He explained that this was not as simple as her panties showing a little above her pants, but she was walking around with her bra on display for the world to see.  To emphasize his point he gave her a detailed description of the bra she was wearing.  For the first time, with just a little bit of attitude in his voice he told her that "your choices and your actions are in complete disregard for the rules of this school, and as a result you will be receiving corporal punishment for BOTH offenses".  He then told her that after he paddles her bottom, she will be driving back home and changing her clothes into something far more appropriate for a school setting.
He asked her if she had any more questions and she silently shook her head.  He handed her a pen, which she grabbed with trembling hands.  She had not grown up in a household in which spanking was used.  She had had the occasional single swat to her bottom when she was maybe four or five, but certainly nothing like this.  She signed the form and pushed it back to him.  As he finished filling out the form and signing it, her eyes were once again back to the paddle.   The couple of times she had given any thought to corporal punishment, like when she would overhear boys bragging about it, she always thought of a "paddle" as some sort of ruler.  She envisioned some sort of Tom Sawyer scene, in an old fashioned classroom with a teacher with a yardstick.  The actual reality of the situation seemed much more serious.  This was not a ruler; this was an actual board with a handle carved out of it.  She was a petite girl and there was no doubt that this paddle would cover her entire bottom.  Her head was completely spinning and thoughts were jumbled with intense emotions.  Before he even spoke again, her eyes began to fill with tears.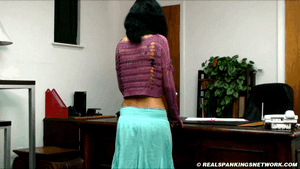 She quickly found herself in a bit of a dream state; it was almost an out of body experience for her.  She went from the top of the world, being noticed by boys in an outfit that she just loved, to being told that this man was about to spank her bottom with a board.  She found herself doing exactly what she was told, all why barely hearing what he was saying.  She watched as he stood up and grabbed the paddle off of his desk.  In his hand it was even scarier, especially now knowing that her bottom was going to be on the receiving end.  He asked her politely to stand up, which she did in an almost robotic manner.  She was completely struck with the duality of the moment, as he pulled her chair out and away as she stood up, almost like a polite gentleman at a restaurant.  In a gentle voice he told her to bend over and place her hands on the edge of the desk.   As much as she wanted to just run away and quit school, she found herself bending over.  He asked her to walk her feet back until she was bent ninety degrees at the waist and to "assume a wide stance".  She did exactly as required and found it odd the overall formality of the situation.  This was not her mom grabbing her by her wrist and whacking her bottom once as she was dragged to her room.  This was basically two adults, engaging in a clearly choreographed ritual, with the sole purpose of providing pain to her bottom.  Everything that she was doing voluntarily was being done in order for him to be able to properly paddle her. She found the craziest part of it all, was that she was actually helping him.
While it felt like time was standing still in the middle of a very bad dream, the rest happened fairly quickly.  She felt the touch of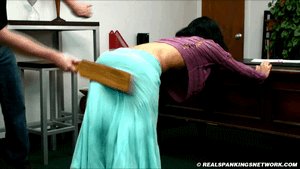 the heavy wooden paddle for a brief second, followed by the words "hang on", and then it happened.  She immediately heard the sound of a gunshot go off in his office space, and a fraction of a second later the pain registered.  She felt a searing pain on the lowest part of her bottom and it completely took her breath away.  As someone who had gone more than out of her way throughout her life to avoid pain, she had never felt anything quite like this before.  It caught her by complete surprise and it was far worse than she ever could have expected.  Before she was able to make any sound at all, the next swat landed on the same exact spot.  Having come nowhere close to having recovered from the previous swat, all she was able to do was finally take her first breath.  Then came the third lick, which once again forced all of the air out of her lungs, but with it, the sounds of agony.  As she struggled for a breath, the tears began.  It was not actual crying, as that would require some sense of proper breathing, but her eyes filled completely and the tears ran down her face.  Before she could contemplate the fact that she was 18 years old, getting spanked with a paddle by a strange man at school, the fourth swat landed.  It hit the same spot as all of the others and there was nothing but a fire burning her petite bottom.  Very quickly after, she felt the fifth swat and then there was a pause.
As she was now able to take a proper breath, the real crying started.  This was not a quiet crying with tears gently streaming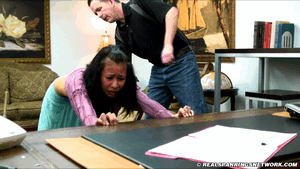 down her face, this was crying like she had not experienced since she was a little girl.  She was fully sobbing as he explained that those five were for the midriff and now they would address the visible undergarments.  She did not know how she would endure anymore; there was no way her bottom could take it.  But at this point, it was not up to her, and her behavior required that she receive another five swats.  Just as before, she felt the paddle briefly touch her bottom and then nothing but pain.  Any thought that she may have had that he might go easy on her, was quickly put to rest as he wore her bottom out with the heavy school paddle.  Regardless of her tears, regardless of the crying, the paddle was put to good use that day as she was taught a lesson that she would never in her lifetime forget.  Each swat compressed her skin, pushing it out of the way, to make direct contact with the large muscles of her bottom.  Each swat added to the overall pain that she was feeling, but more importantly, the pain that she would continue to feel.  After the last swat was applied forcefully to her bottom, it was over.  Her crying continued to build as he politely grabbed her chair for her and asked her to have a seat.  She once again did exactly as she was told, and when her bottom touched the padded seat, she felt an even more intense pain deep into her bottom.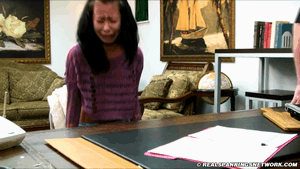 To his credit he was not being excessively hard on her.  Many might think that because she was an honor student who had never been in trouble before, that he should go easy on her.  But for him, he felt that those that had never been in trouble before might actually have the most to gain from a nice and hard paddling.  She made a mistake, but it was not really just a mistake, it was someone that he was responsible for, making a bad decision.  It was not only his job, he saw it as his duty, to see to it that this young lady with such a bright future not make such a mistake again.  He also believed in a very strong sense of fairness, so why should the paddling of this petite female honor student be different than any other student required to bend over for the paddle?  She broke two very clear rules, both of which school policy allowed him to paddle for, and that is exactly what he did.  Yes, it might be a little difficult for some, to watch this poor young lady suffer from what was clearly the spanking of a lifetime, but he views the tears and sobbing as progress and learning.  There was no doubt in his mind, as he pulled the chair up for her to sit back down, that she will not be wearing clothing at school that allows others to see her breasts.  He is also quite confident, that as she walks through the school halls with a throbbing bottom, and especially as she sits for the next couple of days that she will be constantly reminded of the choice she made.  But most importantly, every time she stands in front of her mirror in the morning, for the rest of her high school career, she will make the right decision.  Justice was not only served, he made a correction to her thought process and he is quite sure he will never see her in his office again.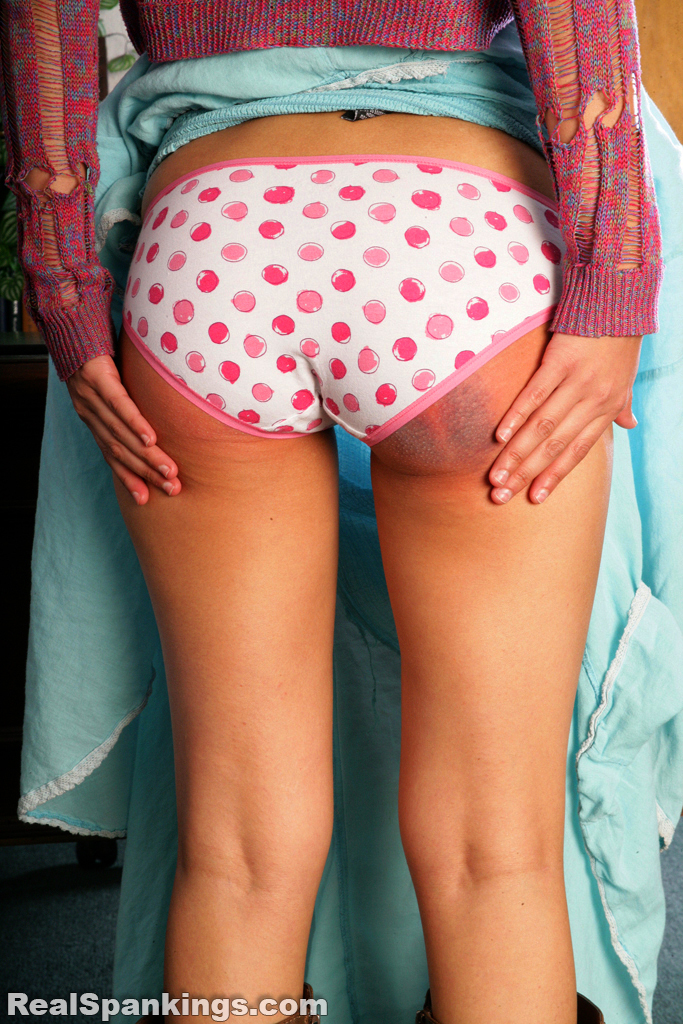 To see this entire scenario played out from the moment she walks into the principal's office, until she is crying her eyes out from ten very severe swats, see the recent update of what is now the highest ranked video in the history of Realspankings.com.  This is as real of a school paddling scene that has ever be filmed, all in HD and only at Realspankings.com.