Well, if you love school corporal punishment, and being that you are here, you must, then you just have to love the ongoing series "School Swats" at Realspankings.com.  As far as I know, this is the longest running corporal punishment series on the web and has been going strong since 2000.  Over the last 16 years they have paddled some of the cutest young ladies around.
The general concept of the series is to explore the overall effectiveness of school paddling.  Each girl is sat down for an interview, exploring their personal thoughts on the paddle being used as a disciplinary tool at the high school level.  After a discussion, which allows us to get to know the girl a little better, it is time to put her through the school swats experience.
It begins with her baring her bottom so we get to see a before view.  I love this part because I am always curious as to the actual effects a wooden school paddle can have on a young lady's bottom.  After we get a peek at their lovely bare butts, the pants and panties comes back up.  The paddler typically gives them a realistic scenario, that a teen girl in high school might find herself in trouble for, like having her cell phone on in class.  This allows the girl to try and get into the mindset of what someone might really be paddled for in high school.
The girl is then bent over for what has to be the most realistic school paddlings you will ever see.  I say realistic, as unlike many spanking videos out there, there is no warm-up of any kind.  The paddle that is used is always a very large, and heavy, oak paddle, very similar to what you would see in a typical school in the South.  The only thing that is a little unrealistic is the number of swats each girl receives, which is 10.  Most schools do not allow that many swats for a single infraction, but it is great to see such a hard paddling that consists of that many swats.
The reactions from the girls vary, but it is clear that this is no easy thing to endure.  Even the girls, who confess to have a huge spanking fetish and love to be spanked, struggle to get through the whole thing.  There is nothing at all fake about any of this, and the severity of the swats are unrivaled in any other spanking video.  He does not just swing his arm, his whole body gets involved, and the swats often lift the girls up onto their toes.  The realism is quite apparent as tears are not all that unusual in these scenes.
When the paddling is complete, he once again has them bare their bottoms so we can see what a school paddling actually does to a young lady's bottom.  Almost without fail, their bottoms are black and blue from the school paddling, often leaving a huge bull's eye type bruise on the bottoms of their butt cheeks.  Once they have shown their bare bottom, they are told to sit down on the hard wooden stool, and the reactions on their faces are priceless.  It is clear that a punishment with a school paddle is not something that is over after the last swat.  They always cringe as their bottom meets the wood, and some ask if they can stand (which he never allows).
They are once again interviewed about the whole experience and then asked if that would change their behavior if they were to receive it at high school.  With the exception of a couple of the girls with the biggest spanking fetish, they all say that it would change their behavior and that they would do anything in the power to avoid ever getting paddled that hard again.  After it is all said and done, they are allowed to add their name to the signature paddle.
Below are the young ladies who have gone through this experience in 2016 at Realspankings.com.  While they might be smiling in the after pictures, you can tell from the picture of their bruised bottoms that this is an experience that they will not forget anytime soon.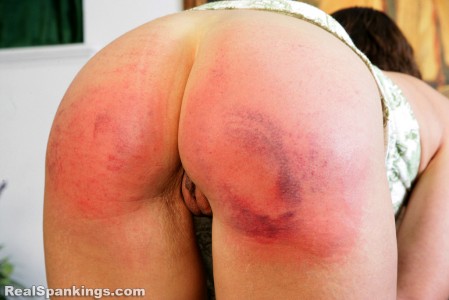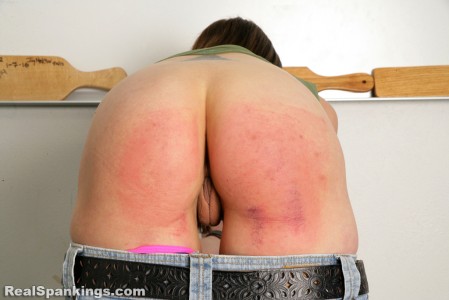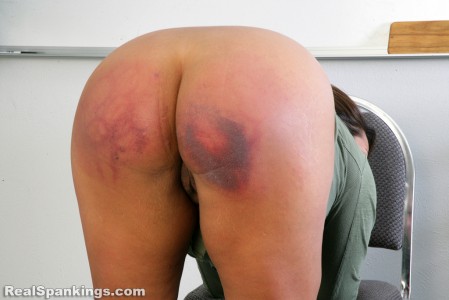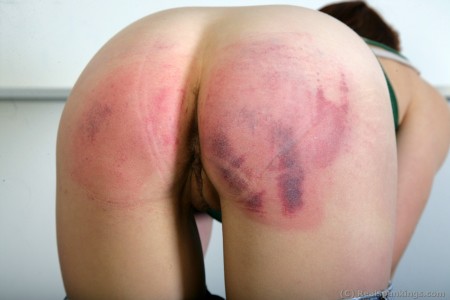 All scenes come from the member's area of Realspankings.com
---
So, for today's look to demonstrate that school corporal punishment is alive and well, we will take a peek at Castleberry High School in Texas.  This school did not allow corporal punishment until 2011, in which they not only instituted it, but at the same time, removed in school suspension as a means of discipline.  The chart below shows how often corporal punishment was used the very first year that is was allowed in the school.  This chart comes from the US department of education for the 2011/12 school year and I will take a moment to explain that statistics you see here.
-        The search is for "corporal punishment, students, without disabilities"
-        "Enrollment w/o disabilities (district)" shows the total number of students in all of the schools in the district- 3,407 total students.
-        "Students in category (district)" refers to how many total students were paddled at all of the schools in the district combined- 877 total students paddled.
-        "Enrollment w/o disabilities (school)" shows the total high school population for the 2011/12 school year- 744 students.
-        "Students in category (school)" shows how many total students were paddled in the high school that year- 628 students paddled in the high school.
-        The colors show the ratio of males paddled vs females.  For this school year, 50.2% of the school paddling were administered to females and 49.8% were administered to males.
When looking at this chart it is important to remember that these figures are based on how many students were paddled, not how many paddlings were administered.  This means that 86.7% of the male students and 82.2% of the female student population were paddled AT LEAST once that year.  The average school year, in most districts, is 180 days.  This means at the very least, there are an average of a little more than 4 paddlings administered a day, with more than half being administered to females.
While we do not have the statistics of how many actual paddlings were administered, only how many students were paddled, we would have to guess that this number has to be much larger.  In a school where around 85% of all students are paddled, you would have to assume that many of them were paddled on many occasions.  I would think it is safe to assume that the 4 paddlings a day is a very low number, as most students do not get in trouble only a single time in a school year.  It seems that school corporal punishment is the PRIMARY form of discipline at this school, so it is not hard to believe that this number could be closer to 10-12 paddlings a day.
So if you think that school corporal punishment is slowing dying around this country, take a look at the chart below, and think again.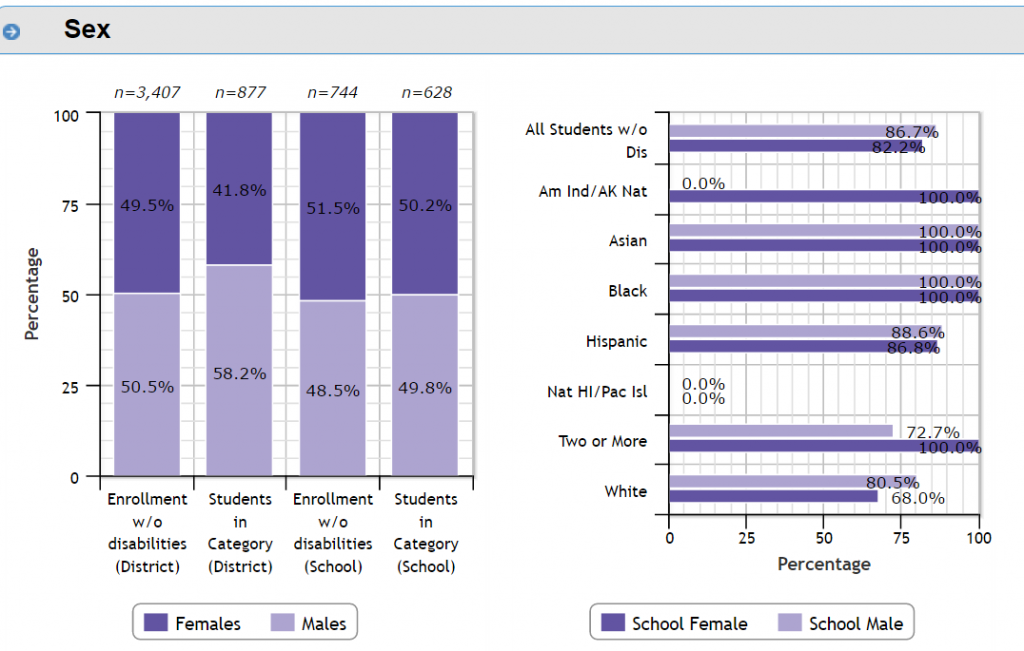 ---
No high school girl ever gets up in the morning, planning on getting in trouble that day at school.  If she attends a school that uses corporal punishment, if she did know, you could count on her dressing in a very specific manner to prepare for her paddling.  But the young ladies of today, dress for school each morning with one of two thoughts.  What is going to make them look the most amazing and drive the boys crazy, or what can she wear that is the most comfortable?
Unfortunately for these young ladies, looking their best, or being comfortable is often the worst case scenario when it comes to protecting their bottoms from a hard school paddling.   In the grand scope of things, as far as choices of what to wear to school, jeans probably protect better than most clothing choices.  Denim protects far better than most thin fabrics, but current fashion trends have most teen girls wearing the tightest jeans possible.
In the last year or so, yoga pants have become one of the most popular things for high school girls to wear.  They are extremely comfortable, but still allows them to show off their cute teen bottoms to the boys.  For the young lady who finds herself presenting her bottom for a good paddling in yoga pants, she is in for quite a shock.  This is about as close as she can get to getting a bare bottom paddling at school, and it highly increases the overall effectiveness of a school paddling.
During the warmer months of the year, shorts are very popular for the teen girl.  While many schools have dress codes that do not allow short shorts, many of them do not.  She got up that morning and slipped into the tightest and tiniest shorts that she owns, with the intention of showing off her cute little ass to the boys.  Little did she know that she would be presenting that cute little bottom to a male administrator to have it paddled.
The short shorts have another issue that the young ladies did not consider as they dressed this morning.  It is not only embarrassing to have to present her teen bottom to the male administrator, but it often has a way of presenting more skin than typically shows during a school paddling.  No public high school allows a student to be paddled on the bare bottom, but in these types of shorts, sometimes part of her bare bottom is exposed.  A good administrator will do his best to paddle far away from a student's tailbone, which means that he needs to aim low.  It really is not his fault if the lowest part of her bottom happens to be bare as a result of her clothing choice.
This same problem can also occur with skirts.  Young ladies love their little skirts, and while walking, or even sitting properly, they do not show too much off, but when bent over, things have a tendency to change.
The class a young lady finds herself in when she is in trouble can also effect how much she feels her paddling.  When the teen girl is acting up in gym, and sent to the office, it is not like she is allowed to stop at the locker room and change.  If she is going to be paddled, it will take place in whatever she was wearing when she steps into his office.
And we cannot forget about cheerleaders.  There are many days of the week they find themselves in the cheerleader uniforms.  It might be game day, a pep rally, or just practice, but they are not immune to school corporal punishment and may indeed find themselves bent over in their tiny little skirts.
All images come from the hard hitting paddling video at Realspankings.com
---