Well, if you love school corporal punishment, and being that you are here, you must, then you just have to love the ongoing series "School Swats" at Realspankings.com.  As far as I know, this is the longest running corporal punishment series on the web and has been going strong since 2000.  Over the last 16 years they have paddled some of the cutest young ladies around.
The general concept of the series is to explore the overall effectiveness of school paddling.  Each girl is sat down for an interview, exploring their personal thoughts on the paddle being used as a disciplinary tool at the high school level.  After a discussion, which allows us to get to know the girl a little better, it is time to put her through the school swats experience.
It begins with her baring her bottom so we get to see a before view.  I love this part because I am always curious as to the actual effects a wooden school paddle can have on a young lady's bottom.  After we get a peek at their lovely bare butts, the pants and panties comes back up.  The paddler typically gives them a realistic scenario, that a teen girl in high school might find herself in trouble for, like having her cell phone on in class.  This allows the girl to try and get into the mindset of what someone might really be paddled for in high school.
The girl is then bent over for what has to be the most realistic school paddlings you will ever see.  I say realistic, as unlike many spanking videos out there, there is no warm-up of any kind.  The paddle that is used is always a very large, and heavy, oak paddle, very similar to what you would see in a typical school in the South.  The only thing that is a little unrealistic is the number of swats each girl receives, which is 10.  Most schools do not allow that many swats for a single infraction, but it is great to see such a hard paddling that consists of that many swats.
The reactions from the girls vary, but it is clear that this is no easy thing to endure.  Even the girls, who confess to have a huge spanking fetish and love to be spanked, struggle to get through the whole thing.  There is nothing at all fake about any of this, and the severity of the swats are unrivaled in any other spanking video.  He does not just swing his arm, his whole body gets involved, and the swats often lift the girls up onto their toes.  The realism is quite apparent as tears are not all that unusual in these scenes.
When the paddling is complete, he once again has them bare their bottoms so we can see what a school paddling actually does to a young lady's bottom.  Almost without fail, their bottoms are black and blue from the school paddling, often leaving a huge bull's eye type bruise on the bottoms of their butt cheeks.  Once they have shown their bare bottom, they are told to sit down on the hard wooden stool, and the reactions on their faces are priceless.  It is clear that a punishment with a school paddle is not something that is over after the last swat.  They always cringe as their bottom meets the wood, and some ask if they can stand (which he never allows).
They are once again interviewed about the whole experience and then asked if that would change their behavior if they were to receive it at high school.  With the exception of a couple of the girls with the biggest spanking fetish, they all say that it would change their behavior and that they would do anything in the power to avoid ever getting paddled that hard again.  After it is all said and done, they are allowed to add their name to the signature paddle.
Below are the young ladies who have gone through this experience in 2016 at Realspankings.com.  While they might be smiling in the after pictures, you can tell from the picture of their bruised bottoms that this is an experience that they will not forget anytime soon.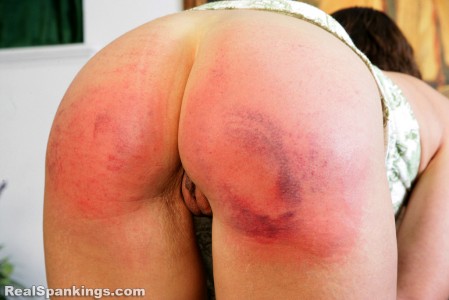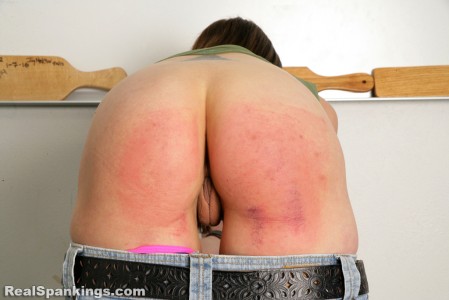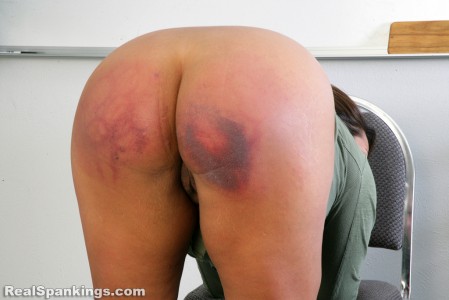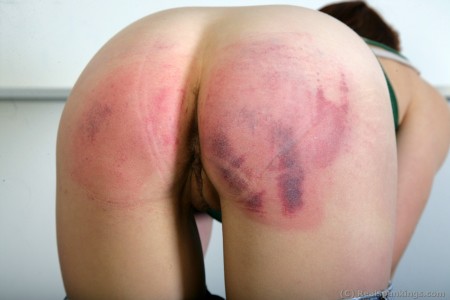 All scenes come from the member's area of Realspankings.com