District policy in most schools, regarding corporal punishment, requires that "Corporal punishment will be administered outside the presence of other students". Which in general, means that all school paddlings must take place in a private location.  This is why for the most part, even in schools in which a teacher is allowed to paddle a student, at the very least it needs to be done in the hallway and not in a classroom full of students.  Where a paddling takes place is generally up to the administrator tasked with the job.  Most commonly a school paddling will take place in the office of the vice principal in charge of discipline.  In some schools, there is a designated room in the general office area that a paddling will take place, as not all offices are suited for applying a proper paddling due to space restrictions.
But not all locations that a paddling takes place in are as private as one might think.  When utilizing an empty classroom as the designated spot for an after school paddling, there may on occasion be prying eyes.  Let's face it, even for those without a spanking fetish, given the opportunity to see a high school girl getting paddled, will not look the other way.  It is normal human behavior, when faced with such a rare situation, to want to see how it plays out.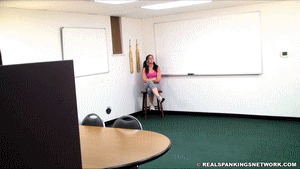 At this school, there is an older classroom that has been converted to a conference room for staff meetings.  To cut down on the distractions of the loud sounds of a school paddling, this has become the designated spot for all corporal punishment to be administered.  The administrator in charge of corporal punishment keeps a couple of paddles hanging on the wall for whenever the occasion presents itself.  As a result of the alternate location for corporal punishment to be administered, all sentenced paddlings are carried out after school. For this young lady, whose final period of the day is athletics, that runs well after school, has to get a pass from the coach in order to report for her paddling at 3:35 PM.  She sits in the room and waits, as instructed by the VP, with the large paddles ever so present on the wall behind her.  She is not too happy about the fact that she is in her practice clothes, as the thin leggings are not going to provide much protection during her paddling.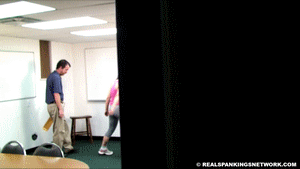 While this classroom is no longer used for classes, it is not all that inaccessible, and it is just 50 steps off of the main hallway.  On more than one occasion, a curious student, hearing the sounds coming from this room, finds themselves sneaking in for a peek. Today, having watched this gorgeous young lady walk to what most know to be the corporal punishment room, wearing her tight fitting yoga pants, this student just could not help himself and had to sneak in to the adjoining room to watch her tight little bottom get paddled.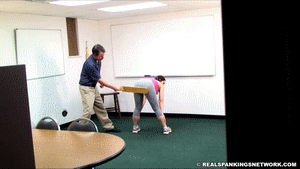 His bravery is quickly rewarded as he sees her sitting on a little stool in the corner, with two giant paddles hanging on the wall behind her.  He has to do a quick duck and cover as he hears the footsteps of the VP coming down the hall.  He pops out of his little hiding place as soon as he hears the words "grab your ankles".  He peaks around the corner just in time to see this cute young lady, in her skin tight workout pants, bending over and grabbing her ankles.  Her cute little bottom perfectly presented as he grabs one of the large paddles off of the wall.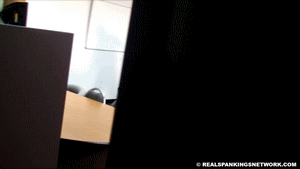 Having never been paddled himself, he is quite surprised when the 1st swat is applied.  He had no idea that a school paddling was administered with such intensity, especially for a girl.  He raised the paddle all the way back and brought it down full force on her pretty little bottom.  As soon as the 1st swat was applied, there was barely any pause and the paddle was raised into the air again, and once again brought down forcefully on her bottom.  She managed to mostly maintain her position for the 1st three, but on the 4th swat, she buckled at the knees.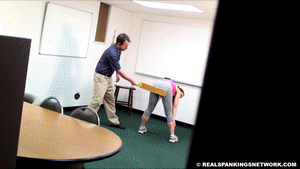 He continued to watch in utter amazement as the paddling continued.  After the 4th swat, just about every swat caused her knees to buckle again.  He could hear the crying start after the 5th swat and assumed it must almost be over.  To his delight, they were only half way through the process.  He continued to spy around the corner as 5 more severe swats were applied to her bottom.  With each one, the sounds of her crying grew.  In the span of less than 40 seconds, he quickly realized why a school paddling is so effective.  As much as he enjoyed watching this young lady's beautiful bottom getting paddled, as he snuck back out to the main hallway, he vowed to never get in trouble at school.
From the very real and intense school paddling scene at RealSpankingsInstitute.com.