Of course she was very aware that they used corporal punishment in her school, she had just managed to avoid it over the entire course of her school career.  She was an excellent student, very well behaved, but on this day, she not only brought her cell phone to class, she left it on.  Her heart dropped when her purse began to ring, as there is a very strict no cell phone policy at this high school.  It took all of the courage in the world to admit it when the teacher asked whose phone was ringing.  She found herself standing next to the teacher's desk, as all eyes were upon her, as the teacher filled out the disciplinary referral. 
As she walked to the office she reflected on everything that she had heard about such trips to the office.  The VP in charge of discipline, who she had never directly met except for in passing in the halls, had quite the reputation.  She had heard on many occasions, the description of his paddle, described as "huge, with big holes in it".  She had also heard about the paddle being raised way into the air and brought down full force…"hard enough to lift you onto your toes".  She found herself hoping that all of this talk about paddling had been greatly exaggerated, as stories in high school tend to grow with each telling. With the recent crackdown on cell phones in class, she had also heard that corporal punishment was mandatory for cell phone infractions.  She was quietly praying, that this being her first ever trip to the office, might result in anything else.
She handed her referral to the secretary, who read it, handed it back, and told her to have a seat in the chairs outside his office.  She could hear him typing away on his laptop for what felt like an eternity.  Eventually he called for her and she walked into his office and took a seat as instructed.  He took her form, and said nothing as he read it over.  It took her just a moment to spot the paddle sitting on the desk, and it was exactly as had been described to her.  It was indeed giant, it was very thick, and there were two rows of large holes cut into it.  Being that it was actually sitting on his desk, she feared that it was used in such situations more than not.  While he looked over her school records on his laptop, as hard as she tried, all she could see was this giant paddle just a couple feet from her.  She fought back the tears as she imagined what that giant piece of oak would feel like on her tiny teen bottom.
After looking through her records he asked her is she had indeed had her cell phone with her and on in class, and she replied that she did.  Without any further discussion he announced that there is a zero tolerance policy for cell phones in class and that she would be paddled.  As a result of the "epidemic" in school, she would receive the maximum sentence allowed by the district, which was 8 swats.  Before she could fully process what was happening she was instructed to stand up.  She did as she was told and watched as he did the same thing.  He grabbed the paddle, stepped around behind her, and pulled her chair over to the wall.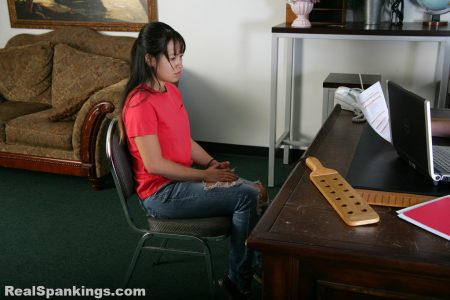 In the 5 seconds it took for this to take place she was already beginning to tremble.  From what sounded like another time zone, she barely heard the words, "bend over and place your elbows on my desk".  In almost trance like state, she found herself following his directions.  She bent over, presenting her tiny teen bottom, in the tightest jeans she owned.  He then told her to widen her stance, which she did.  He quickly explained that a paddling only worked if it hurt and that this would indeed hurt.  But he emphasized that he needed her cooperation, and that she needed to remain as still as possible, as "we only want the paddle to make contact with your bottom".
She jumped as the paddle barely touched her bottom, thinking that they had already started.  She felt a gentle little tap, there was a pause, and then her world changed.  The paddle swat not only lifted her up onto her toes as had been described to her, but it buckled her knees.  Just a second later the pain registered with her brain and her bottom was on fire.  She pushed her bottom back into position as the next swat immediately landed on her tiny teen bottom.  The paddle was so big that each swat set all of her bottom on fire, including the very top of her thighs.  This was all it took for the tears to start and it was quite difficult to get herself back into position.
Through the tears and the pain, she once again assumed the proper stance and the next swat was applied.  She wad done, there was no way she could take any more, but she still had five left.  She did not get right back into position this time and he expressed to her that things were about to get much worse for her if she did not cooperate.  While she knew she could not take even more more swat, with his raised voice, and that paddle in his hand, he was quite convincing.  Reluctantly she pushed her bottom back out presenting the perfect target for her lesson.
Over the next 20 seconds she received the last 5 swats and they were all applied with the same force as the first 3.  Tears turned to crying, and the pain her bottom felt grew to a very painful throbbing.  When it was over, she just stayed there, with her burning bottom still being presented, as she felt her chair touch the back of her legs and was told to sit.  She winced through the pain as she sat as gingerly as she ever had in her life.  She continued to cry as he filled out a form and then pushed it across the desk and told her to sign it.  She wiped away the tears, signed the form, and was then dismissed.  She walked out of his office to see the eyes of every student and staff member in the office staring at her as she still wiped the tears from her eyes.  With her bottom feeling the results of her behavior, she walked to her locker and put her cell phone inside.
To watch the exact video that goes with this post and pictures, you can see it in HD in the member's area of Realspankings.com.