Forced to change clothes for her school paddling
Something that is rarely considered when it comes to the application of corporal punishment in the high school setting, is clothing.  Not all outfits actually allow for a paddle to be applied in a serious manner.  While yoga pants are becoming quite the trend, for the teenage girl, jeans are still the number one choice when getting dressed for school each morning.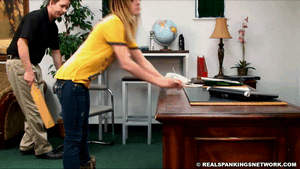 The problem is, that with jeans, the fashion trends change on a very regular basis.  Currently, jeans that are very decorative on the back, are quite popular.  The first issue is simply that of damaging a young lady's jeans.  With all of the bling, sequins, and such, a hard paddle swat has the potential to damage a pair of expensive jeans.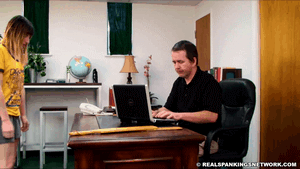 More importantly, many styles of jeans have large buttons on the back.  Many of these are attached with small metal posts, and a paddle swat to that part of her pants could present a danger to her bottom.  The goal of a school paddling should always be as much pain to her young bottom as possible, but safety issues need to be addressed.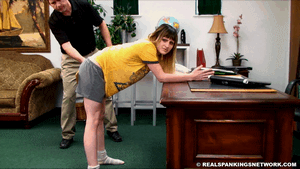 The young lady in these animations, when it is time for her paddling, this exact problem presents itself.  After she is bent over for a well-deserved paddling, he notices that the placement of the closures on her pockets will present a problem.  He is unable to apply the paddle swats to the intended area without fear of driving the metal closures into her bottom.  The solution is quite easy, as she is then sent to the locker room to change into her gym shorts.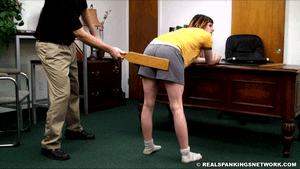 The change of clothing helps to immediately solve the problem, and has an additional, unintentional, benefit.  The thin cotton shorts that she changes into, are going to provide far less protection that the jeans would have.  Yes, the paddle is heavy and thuddy, so either way her bottom would have ended up bruised, but the thin shorts are going to increase the amount of sting significantly.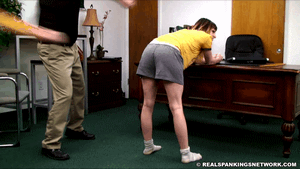 Once she has changed and returns to his office, she is bent right over, and required to wait a minute before the paddling begins.  This gives her just a little extra time to consider how much that paddle, sitting right in front of her, is going to feel when applied over the thin shorts.  Once he finishes with the required forms to apply corporal punishment, it is time to get started.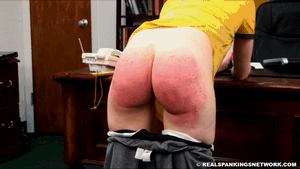 As should be the case with a proper high school paddling, he starts off with very hard swats.  He takes a few swats to get his aim where it needs to be, and then he really lets her have it.  All the rest of the well-deserved swats, are applied as hard and as fast as possible.  It is quite clear when all is said and done, as she inspects the damage privately, that this is a lesson that will stay with her for many days to come.
From the recent update to the member's area of Realspankings.com.
On a side note, let's show some support for the person responsible for the most amazing school paddling videos to be found anywhere.  The voting is coming to an end soon for the best male spanker of 2016.  Show your support by clicking the link and placing your vote.