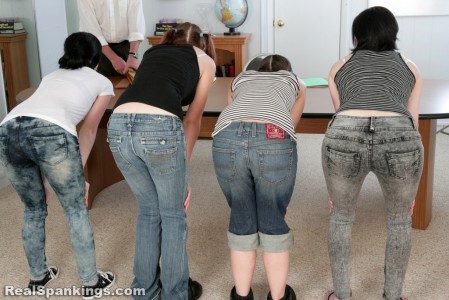 When it comes to a school paddling, almost all schools have policies and procedures in place as to exactly how a paddling should take place.  These policies generally address who may administer it, who needs to witness, who may or may not be present, how many swats can be administered, all the way down to the size of the paddle to be used.  What I have never really seen specified is the position the student is to be paddled in.  This allows for a lot of variation in positions and is generally up to the discretion of the person in charge of administering the paddling.  Many might think that any position will work, which they will, however some are clearly more effective than others.
One of the most common positions if for the young lady to simply bend over and place the lower part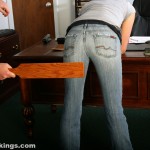 of her arms flat on the desk.  This gives her good body support during her paddling and does present her bottom in the proper manner.  I do feel there are a few drawbacks to this position.  The first is that this is a position that basically allows her to just sit there and take her paddling and does not require much assistance on her part during the paddling.  I much prefer positions in which she has to work a little bit to maintain her position, thus requiring her to be an active participant in her own punishment.  The other drawback to this position is that by bending 90 degrees or less at the waist, it the paddle tends to only hit the fleshiest part of her bottom.  This does indeed hurt, but it does not bring as much of the underlying muscles into play which helps to create long term soreness.
The next position that is quite common is similar, only the young lady is required to bend over and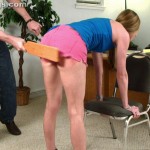 place her hands on a chair or a stool of some sort.  This adds a little more effectiveness to the overall process as it is not a common position that she would find herself in during the normal course of her day and adds to the discomfort.  The lower the chair is, the better the paddling, as this position begins to take her bend beyond 90 degrees and begins to bring some of the butt muscles closer to the surface.
Some administrators still utilize a desk, but instead of her simply leaning over it with her arms on the surface, she is required to grasp the edge of the desk and then walk her feet back, until her arms and her back run along the same plane.  While this position does not create more than a 90 degree bend, I feel it still adds a lot to the overall effectiveness.  There is really no situation in life in which this position is used other than for a punishment.  It begins to add a different degree of formality to the process, and this position really requires her to present her bottom to be paddled.  This is the first of the positions covered that begins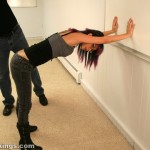 to add a degree or her feeling a little exposed and vulnerable.  While still at the desk, she does not have the comfort and security that she would feel when simply leaning over the edge.  There is no doubt that she is being positioned in a manner that is going to lead to her being well punished.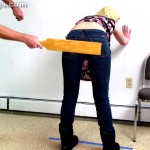 The next position, which is practically the same as the previous one, involves the same basic structure but with the hand support being a wall or a locker or some sort.  This is a common position for teachers and coaches that may not have the benefit of a private office to use.  For the schools that allow the teachers and coaches to paddle, they typically have to do it in a location in which no other student is present to watch.  For most teachers, this generally involves simply taking the student out into the hallway.  While there are other positions that work in this environment, this one does allow the student to have a good amount of support and balance, therefore allowing a very hard paddling to take place.  There is no concern that any swat will knock them forward, so it provides for an extra degree of safety for harder corporal punishment.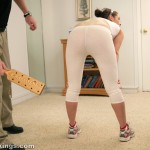 The next positions all basically fall into the category of being self-supporting.  Most commonly a student is required to assume a wide stance and then to bend over and place her hands on her knees. The wide stance allows for better balance in a position in which there is nothing to hold onto to support herself.  I feel that a self-supporting stance is more effective than one in which she is allowed to grasp something as it is more difficult to maintain this position while being paddled.  A paddling is not supposed to be easy, nor should it be something that she should not have to assist in.  By bending over with her hands on her knees, she is not only presenting her bottom, but doing so in a manner in which she will have to assist.  A hard paddle swat has the potential to knock her forward and off balance, so she has to actively work to maintain that position, making her a very active part of her paddling.  No one is going to hold her in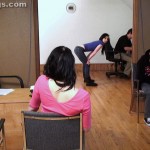 place; it is her responsibility to present her bottom in a manner that allows a good paddling to take place.  This position can also be made a little more effective by requiring her to bend her legs slightly.  Too much of a bend can make the angle the paddle needs to swing from a little difficult, but a slight bend helps to tighten up her bottom, pulling the fleshier parts tighter.  The tighter her bottom is pulled, the less surface padding there will be, allowing for maximum effectiveness and long term learning.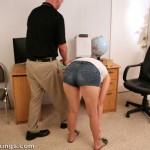 What I believe to be the very best position for paddling is for a young lady to be required to bend over and grab her ankles.  It makes almost every part of a paddling more effective thus decreasing the likelihood of her repeating the offense.  First, it is highly unusual and there is really no other situation in which someone can tell someone else to bend over and grab their ankles.  By her even doing so demonstrates her submitting to the authority of the person in charge of punishing her.  On the surface the differences may seem slight, but I feel there is a huge difference in "lean over that desk" and "bend over and grab your ankles".  It generally requires a fairly wide stance which adds to the intimacy and vulnerability of the position.  In general, it is also just not a comfortable position to be in for any length of time and the more discomfort one feels during a school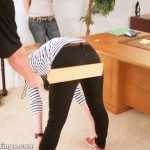 paddling the better.  It also helps to really put the focus on her bottom.  When she assumes this position everything all of a sudden becomes just about her bottom.  Her face is no longer even visible, for the next minute her bottom and the paddle are the most important things in the room.  For just about every high school girl, this also adds a great deal of embarrassment to the proceedings.  No girl wants to be in a situation of spreading her legs and grabbing her ankles in front of some random person.  But her behavior is what triggered this event so now she has no choice but to suffer through the embarrassment of what she created.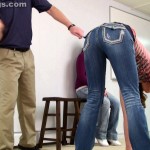 The use of this position really allows for a paddling to be as effective as possible.  With the tight jeans that all the girls wear nowadays, everything is pulled extremely tight when she is grabbing her ankles. All of the muscles are brought to the very surface and all of the paddling is spread thin.  She is not only going to feel the sting of each and every swat, she is going to feel the full weight of the paddle as it hits the most sensitive areas.  Long term soreness is not created by smacking the padded part of a young lady's bottom, it is created when wood meets muscles.  Every swat of the paddle will help to create a soreness that she will feel for a couple of days which should always be the goal.  With her grabbing her ankles the administrator can feel reassured that she will wake up the next morning and immediately think about her punishment.  The only way to really create more bend during a paddling is for the student to be required to place her hands on the floor.  This is not a very common position, but there are some coaches out there that still utilize it.
Proper positioning during a paddling is by far one of the most important aspects of the punishment.  It helps the student become part of the process; it can add anticipation, vulnerability, and some embarrassment.  But most importantly, the proper position during a paddling can increase the overall amount of pain that she experiences both during and after.